The Anaa Atoll
History
The Atoll has been discovered by Louis Antoine de Bougainville in 1768, and visited by James Cook.
Other names given to the atoll were Todos Los Santos, Ile du Prince de Galles (Walles), Ile de la chaîne.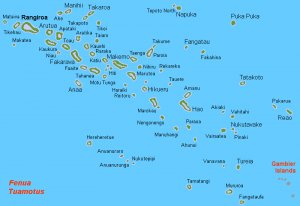 The atoll has had 2000 citizens in the past, but there are now reduced to 400.
Anaa has been vasted by cyclones several times (1878, 1906, 1983) and the village, completely destroyed, has moved to protect the inhabitants.
Geography
Anaa is a beautiful atoll located in the north-west of the Tuamotu islands.
Other near islands and atolls are Tanarea and Taiaro.
The size is variable and about 30 Km (18 miles) long and 6 km (4 Miles) width. The max altitude is 13 meters.
There is only an inhabited village, Takuhora, there is no hostel.
The nearest notable town is Papeete in Tahiti, at 400 km, which is the economic and administrative capital of French Polynesia
Anaa has a shallow lagoon of turquoise waters.
View the map.