Chrome 3, new interface
Chrome 3.0 final is available since September 15, 2009.
A faster version, customizable and brings us closer to HTML 5, before the 3D in the browser, the next step.
Redesigned Interface
Thumbnails appearance changes under the mouse to show a close button. You can move the thumbnails with the mouse. We can now replace images by a list.
The Omnibox search box displays now icons in the suggest list, related to the types of links:
- Bookmarks.
- Suggests.
- History.
Faster
As shown by the benchmarks displayed on the blog of Google, the V8 JavaScript compiler is 25% faster than Chrome 2.
This makes it the fastest on the market.
HTML 5
The next standard for web pages, HTML 5 is gradually implemented.
The following tags are added to Canvas, which was already added:
- <audio>
- <video>
This allows you to embed media without plugin.
Themes
With this version, it is possible to change the theme of the browser as is done in Wordpress. Example taken in the gallery hosted on the Google's site: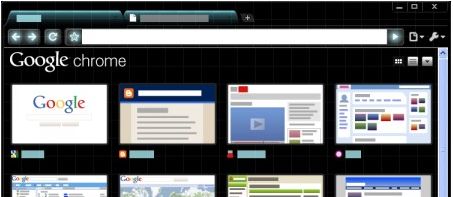 Do not miss the video of artist themes flipbox.
Links
See also