Evolution of browsers' market shares
What is the worldwide marketshare of Google's Chrome? Progression over time shows that it is becoming the most used browser!
2013-2014
Statistics of browser market shares in the world according to Statcounter on January 1, 2014 (period 8/2013 to 12/2013). Chart by Scriptol.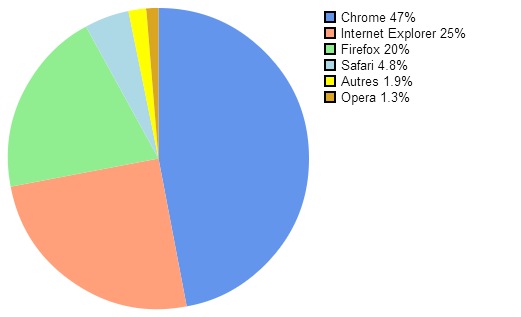 These statistics show a huge increase of Chrome. It should be noted that they are based on the number of pages viewed and not on the number of different visitors.
2012
Chart by Scriptol from StatCounter's data.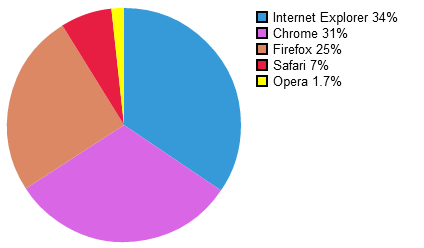 Google Chrome continues its gradual rise at the same time that IE continues to fall and according to statistics from StatCounter, Chrome should be the most used browser worldwide in June or July 2012.
The statistics, however, are not the same according to all sources. For Net Applications, the world ranking is as follows: Internet Explorer: 54% Firefox: 20% and Chrome: 19%.
Note that in the U.S., Internet Explorer is experiencing a resurgence in form, but the World market is more favorable to alternative browsers
2011
In June 2011, worldwide:

Source: Statcounter/Pingdom.
Internet Explorer has lost 50% of shares, those of chromium have been multiplied by 5.
2010
As of January 2010, Chrome became the third most used browser in the world and so reached the podium, taking the rank previously occupied by Safari:

This is shown by statistics from Market Share. IE and Opera are declining in favor of Firefox and Chrome.
Source Net Applications.
In fact, Chrome is growing slowly but steadily, from 1% in September 2008 to 4,63% in December 2009, according to the statistics of the year provided by The Apple Blog.