Magento eCommerce software
It won the Sourceforge award for best open source software, for its Community Edition (no more files are available on Sourceforge actually). Was bought by eBay in 2011. There is a pay enterprise version too. The Community version is free but unsupported and according to the publisher, is designed for developers and experts, so it is perhaps not so simple to use!
This is a software that can support a large number of users and be adapted to the most diverse activities. Which is not included by default can be found among the many extensions to install. But if you want more specific functions, you need to know the PHP language to implement them.
It can be slow and consume a lot of resources with a large number of users.
This CMS is written in PHP and requires MySQL and PHP 5.3 at least. Extensions GD, DOM, SOAP, PDO are required. It needs also an Apache server.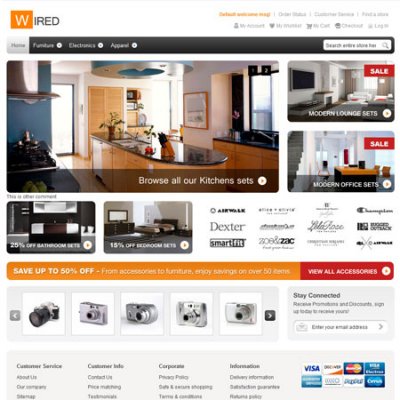 Like Wordpress, the software supports themes to personalize his merchant site. Try for example Hellomagento. Even if it is free, this theme give to your site a quite professional look!.
List of functions
Manage a catalog of products.
Order and payments management.
Support for mobile.
Monitoring the delivery of products and customer space.
Detailed statistics of sales.
Foreign languages.
Affiliation (plugin).
Sponsorship (plugin).
Loyalty (plugin).
These functions may change over versions. The site will provide a more complete and up to date list.
Download
Download Magento Community. Free and open-source.
A link on the Enterprise version is on the page.
Other open source eCommerce software
In PHP: Avactis, Batavi, osCommerce, PrestaShop, Ubercart, VirtueMart, Zen Cart and Agent-Ohm a fork of Magento.
In Java: Broadleaf Commerce, Ofbliz.
More information