Robot artist, a modest start
When we think of robot artist, you think the show, and it is a fact that such shows are currently offered.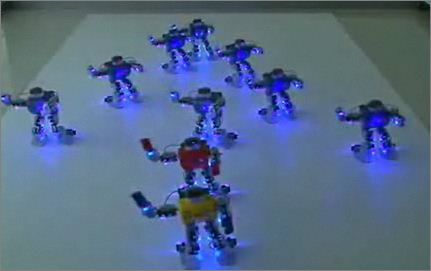 Robobuilder 2009
Video of robots playing a ballet ... There is this unfortunate metallic background noise ...
When you be talked about artificial ballet, you dream rather something like Hatsune Miku, a very popular singer in Japan and who causes very big rallies. This is actually only a realistic hologram. Replacing holography by artificial objects does not seem very difficult to obtain, it is still a program that must be connected to a mechanical body rather than images.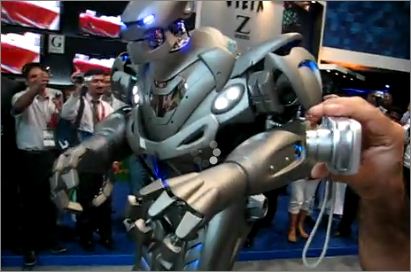 Titan the robot
Video of the robot Titan above... It was presented at Gitex 2009 in Dubai by Cyberstein Ltd, a British company that leases the robot as an attraction for exhibitions..
This giant and scary robot dances and sings (in a rattle noise) and speaks to the public... This robot is designed to perform exhibition and goes from festival to festival to impress the public, and especially children.
In this other video he interprets Louis Armstrong and make its show. It is also longer.

The robot painter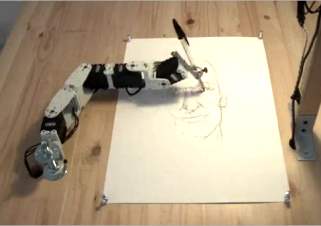 As shown in the video above, the robotic arm of Tresset Patrick is able to draw a face. It uses a face detection technique called Gabor filter. This can also work well with a picture on a screen. Then different techniques of computer vision software allow it to draw a picture ...
In conclusion, using a such form detection program, which can store and reproduce them, and by associating it with a humanoid robot and the program of body movements management such that of Hatsune Miku, a singer or dancer robot can be realized of which she gives us an idea in a virtual form.