Dustcart, the Dustman Robot
The project Dustbot (robot trash) wants to implement a collection of robots to handle the health of the city, collecting trash and check the
quality of the environment…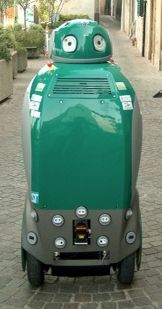 A first experience has been implemented in Italy with two fully autonomous robots that are responsible for managing the street. The model used is responsible for collecting garbage at the request of residents and provide information on air quality, among others.
It contains several bins for glass, paper and plastic. Once completed, it moves itself to collectors like the garbage truck.
Italians imagine to equip the city of Naples, which suffers a chronic problem of garbage collection.
There are different Dustbot models, to collect garbage (The Dustcart which we see on the photo at right), clean the streets with brushes or play the role of sweeper and pick itself garbage.
The robot use a GPS to get around. They are connected to a local network that manages a fleet of machines and assigns them missions by sending messages containing SMS orders they recognize.
More information