Robot lumberjack
This six-legged vehicle moves without destroying shrubs or crush small animals, thanks to his slow gait. It also helps to overcome obstacles, and access to otherwise inaccessible areas.
This is currently a prototype of the company Plustech.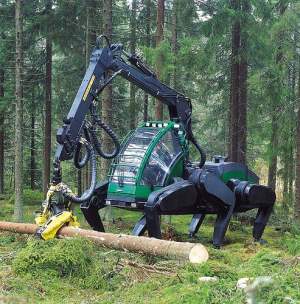 This is not a robot, but an intermediate vehicle which locomotion is automatic and the direction given by man.
The Triton Sawfish in video also is a ROV (Remotely operated underwater vehicle) whose role is to cut trees in submerged areas.
Video