Robot cook
Robots are starting to become popular in some Asian kitchen. There are no more household robots like the ones we use daily, but humanoid robots capable of making themselves the dishes ...
Motoman
Motoman SDA 10 is of a robot to do everything he can cook, assembler in a factory, or play music ... This cook full receives commands and performs all operations of preparation: mix, cut, assembled, cooked and returns foods before placing them on a platter.
Its 15 degrees of freedom and multi-axis enable it to perform all movement that a man could do. Like a computer, SDA uses 10 different programs to perform various tasks, as shown by the video which shows how to assemble or replace a cook in a fast food restaurant where he cooked Okonomiyakis.
The robot is particularly effective in the tasks of moving objects. But it is one of the most universal current robots.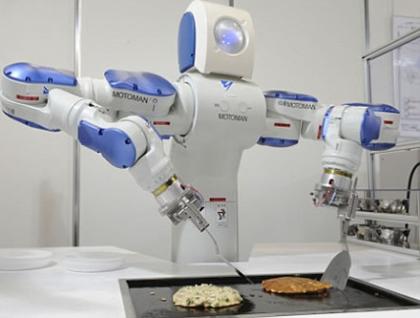 Cook the robot
This experimental robot is designed to teach the art of cooking. It can correct his mistakes and improve.
Watch the video to the right ...
Robot Ramen from AISEI, at restaurant
This chef robot is based in restaurants in Japan including FUA-Men restaurant in Nagoya. Based on the exploitation of this robot, the name is a contraction of "Fully Automated raMen". It is a fully equipped robot cook. It needs a minute and 40 seconds to prepare and cook a ball.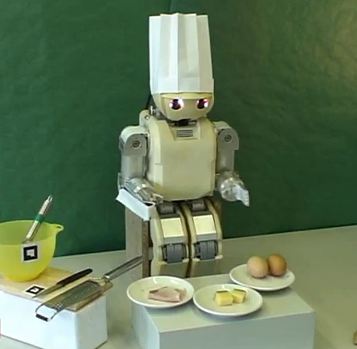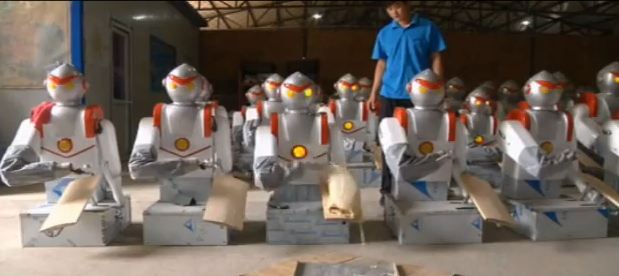 Robot cutting slices
It begins to appear in the kitchens of restaurants in China, where the dishes used to put everything into slices. 3000 copies have been sold to date (August 2012), as for 1500 dollars per unit, it was much more economical than the human staff and we must say that the task of making slices is rather tedious and does not make vocation .
But the question that arises is why a robot humanoid - or semi-humanoid because it has just a trunk - and not a simple machine? These robots have an arm and eyes, in fact sensors, and are more flexible and better able to adapt to their task, as you can see on the video to the right.
Soon we will enter a restaurant while being sure not to wait before being served! These robots are providing new opportunities: the ability to have restaurants open 24 h/24 and 7 days 7 and anywhere!
More cook robots
The robot drummer. Only perhaps lacks a little artistic sense?
The Squse specializes in sushi, it has only one arm but it is accurate and efficient to knows how to vary the pressure in his artificial fingers to take food without crushing them. What explains this video ...