Robot musician
After the trumpeter robot and the runner robot, Toyota goes further in the dexterity with a new Partner Robot, the violinist.
It was presented at the exhibition in Shanghai in the Japan block and played in particular a China tune, Mo Li Hua (Jasmine Flower).
It is not a specialized robot running a program like could be a street organ playing of punch cards, but a being having varying abilities, which can hold multiple roles within the home. Japan relies heavily on robots to assist seniors to daily chores.
Video demonstration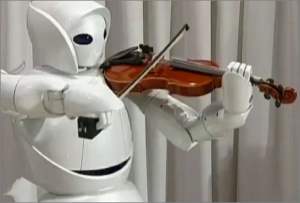 The Quartet Band from Toyota also plays four instruments.
Robot trumpeter
Also offered by Toyota that next to car production - involving robots - has multiple activities in aerospace, biotechnology, education and philanthropy, the robot playing the trumpet before the robot cellist, whose the first significant demonstration was in 2007.
We can see in the videos he is able to interpret different tunes.
Other videos