Robot teacher
In South Korea, these are now robots that teach English to children ... It solves a problem especially in foreign language learning, as thousands of foreign teachers are costly to the ministry of education in this country and in addition, it is hard to fill posts in rural areas.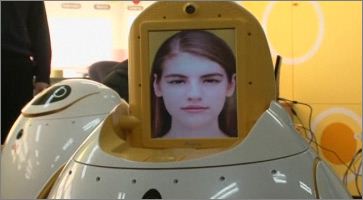 The project started in the city of Daegu with a first group of 29 robots with the aim to generalize the experience to all schools, and in all subjects.
It plans to install 8400 in kindergartens by 2013. The telepresence robot in the video is called Engkey. It poses questions to students and interprets their responses. There is a real person, living in a different country connected to the machine. But the evolution is in the removal of any human intervention.
Video: