Advanced Explorer : Versions
Liste des versions et changements dans Advanced Explorer JavaScript Edition.
2.0 - December 19, 2014
The Socket.io framework has been replaced by the WS framework server side and by the standard WebSocket object browser side. This results in a program two times faster.
The editor now supports highlighted code to main programming languages and a syntax checker. This becomes a development tool for scripting.
Unzip added to the context menu and you can now use drag and drop to extract files from an archive.
The source code is now placed on GitHub standalone and not included in Tiloid. It remains compatible with it.
1.1 - January 14, 2014
Drag and drop is implemented for copying a file or group of files.
File(s) copied remain always selected, for a further deletion of the source if you want to move files.
New brown icons replace the green icons on the top bar, and blue icons on the panel bars.
File names with special characters like & was not recognized. They are now.
Added management of bookmarks with two new icons in the URL bar.
A directory can be added to favorites. Displaying list of favorites (computer icon to the left of the path) provides access to the most commonly used directories. This also serves on Windows to access storage units.
An image is better adjusted to fit the right panel whatever its dimensions.
Some other minor corrections.
1.0 - January 8, 2013
Advanced Explorer and Tiloid are put online on Github.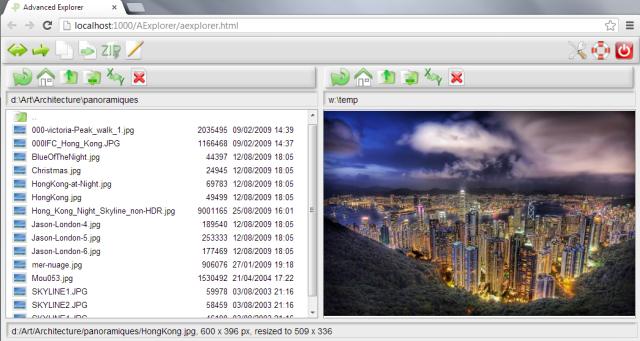 Todo...
Implementing highlighting in the editor.
Access to a remote server via FTP.
Synchronization of directories.
An amount of development is envisaged.
A suggest? Add a comment...