Visibility of an e-commerce site on search engines
When you are managing an e-commerce (or eCommerce, e-business) website, how to make it more visible on search engines among all the competitors?
The task is even more difficult since the Panda Update because if a commercial site includes a description of a product supplied by the manufacturer, its pages will be considered duplicate content, it will be penalized. But we can respond to this threat.
At first get the site optimized
The first step is to optimize the site for search engines and this manual to search engines gives the basics of optimization. It is common to all types of sites: for the content is properly indexed,and has the place it deserve, some rules apply.
For merchant sites, the primary concern is ranking on a keyword. This is something that depends primarily on the construction of the site.
Firstly, the keywords must be in the title, and subtitle if any. It should appear in the content with all the synonymous, with also the terms that could help to clarify the context, as described in the article on the LDA.
Certain rules apply specifically to sites with a list of products...
Provide access to all pages to robots.
Build a sitemap or place links between pages.
Create a tree with subdirectories for easier navigation. If the site is already built without directories, you can make virtual directories with pages containing a list of articles with a common topic.
A title meta tag containing a unique title, describing the page and containing the keywords specific to it.
A more detailed description in the meta description. It is especially essential if the page contains little textual content.
Avoid duplicate content on different pages. If necessary, load it dynamically using Ajax to not be read by the robots (do not hide anything in the page).
Generate an RSS feed that will inform regular customers of new products.
Its usefulness depends upon the type of site.
And you must avoid a Panda penalty, that occurs if your content is a duplicate of another site, even for a part only, that is frequent on e-commerce sites that display descriptions from the producer.
Reply to Panda Update
To avoid that the content is considered poor, because it contains product descriptions available on many other sites, the webmaster must open his sites to comments and reviews by users.
He obviously will risk receiving negative feedback (sometimes even provided by suppliers of competing products), but it's better than to have the site downgraded as a whole.
And if he does not have enough visitors to get those comments, he can add his own analysis of the products to provide an original content.
And going to promotion
The second step is to promote its site. First, we must know How to get backlinks. But they do not come automatically, especially during the launch phase of the site,
Directories
Using directories is the most direct way. They are useful to place keywords in the anchor link that will help understand your site.
Search preferably a specialized directory that can bring visitors.
However directories only point out the home page and not the pages of essential products. And you must also avoid backlinks to the directories that bring absolutely nothing to your customers: the image of the site would suffer.
Can we make link exchange?
Make a link exchange with another site may have disadvantages. If the other site has a topic too different, it diminishes the quality of links. If it is too close, it tends to transfer your customers which is not more desirable.
It is only in the case where the other site is perfectly complementary that link exchange makes sense. For example, between a host that has no SEO service, and SEO service that is not a host, both benefit from the exchange while providing relevant information to visitors.
You can propose link exchanges on some forums. Then, before to write the post, try to imagine a list of services that may be complementary to your business.
Obviously these links should be in limited quantity and only on pages that can bring visitors.
Twitter and Facebook
Tweets and Facebook wall are a way to inform customers of products from the shop or the activity of the merchant site.
Viral video
This trick is for companies that have large enough resources.
A video becomes viral when the link to it is spreading exponentially on the Web. Some examples in the article on YouTube.
But it is easier to create a viral article.
Viral article
The launch of a product can also take advantage of press releases, or articles in a blog created to discuss the site's activity.
We will then try to create an article remarkable enough to be viral and to achieve re-tweets and links in blogs.
But how to create a viral article? That is the purpose of linkbait, the technique for making pages that spontaneously generate links.
Google Enterprise Search
Google Store is an online store sites made with descriptions of products send by webmasters and associated with the search engine to enable users to find products they need and where to buy them.
Webmasters of commercial sites are invited to the service Enterprise Search from Google for providing the description of their products, possibly with pictures.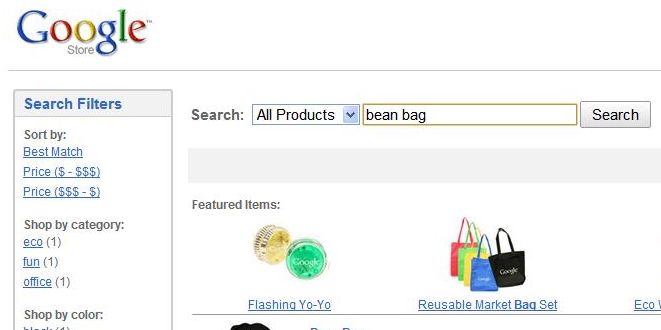 The search on Google Store is facilitated by many filters such as price range, product category or brand. This allows the user to create its own comparison shopping... and dispense it with price comparison websites. Which are also less frequent in the results of the search engine Google these days.
The webmaster has to sign up to Google Enterprise Search and go to Google Merchant Center to send descriptions of its products and images. The uploading can be done automatically with an API.
He can combine the service with AdWords to add advertising too.
This service is not free. The price depends on the number of items whose description is posted on the site.
Other ways to let themselves known ...
Put an ad on your car.
Make an Adword campaign.
To cooperate with sites like eBay, Shopping.com (against remuneration).
See also Digg-likes sites. A liste of press release is added at the bottom. The content of the statement must be a unique text, otherwise it will be against-productive.