How is PageRank calculated by Google?

What determines the PR, what are the criteria that directly affect the value?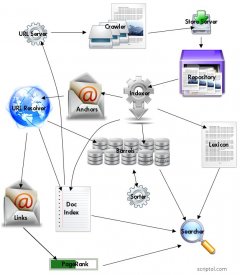 The position of a page in response to a search depends on the score of relevance and PageRank.
PageRank does not depend on page content but links pointing to it (and outbound links to a lesser degree).
The authors of the algorithm, from the links between all the web pages, establish a chain of Markhov which gives the probability of reaching a given page in the shortest time possible.
To be simple, to get a higher PR, you must have many links pointing to your site, and mainly quality links from sites that then themselves have many quality links pointing to them.
The "vote" of a page is transitive, if A links to B , it enhances the importance of B, and therefore, if B links to other pages, it also enhances their importance.
Moreover, if a page points to several links, it brings the weight is divided by the number of links (including nofollow links that are discounted here).
The links between pages within a site are taken into account, and they tend to transfer the PageRank of a page to another.
For the full list of criteria considered to assign a score to a Web page, read the abstract of an application for patent filing by Google for the calculation.
From the article "Deeper inside PageRank" by A.N. Langville et C.D. Meyer.