Twitter and its contribution to traffic
Twitter and other social sites like Facebook, Stumbleupon have them a real effect on the traffic off a website?
These social sites bring visitors. However, depending on their sources, visitors do not have the same impact on a site:
They remain more or less time.
They consult multiple pages or return to the source after having read only the landing page.
They look or not advertisements.
They add or not links on their site if they are webmasters or in forums otherwise.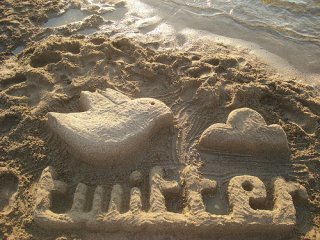 The statistics generally give the same results, in terms of hearing, visitors from social sites or digg-likes have a slight direct interest.
They generally consult only one page, so they raise the bounce rate (this does not matter in itself).
They spend a few time on the site because they tend to visit sites in series.
They add nothing in advertising revenue.
They can produce a peak audience, but it is ephemeral, like a sandcastle ...
In addition to that, the links in tweets are nofollow, so they are not taken into account by search engines and provide no backlink.
Contributions from social sites
The tweets and links however to get a hearing by the followers or through search engines or in the case of Stumbleupon from the homepage.
Since 2010, tweets on Twitter are taken into account by Google, which is supposed to bring visitors even if you do not see them often in results pages.
We know that links in tweets are not included in the calculation of PageRank, Google having reported about it.
The site command at least shows that Twitter is indexed:
site: twitter.com 
Your page on Twitter have a PageRank that does not depend on the number of followers but the number of links to other websites.
Indirectly, the statistics also show it, visitors from these social sites help the development of a site by providing links elsewhere on their site or forums, provided that these visitors are very concerned by the content.
Conclusion
Social sites are just an accessory for the webmaster. They may bring visitors, but is it not preferable to concentrate on creating a unique and interesting content for the wider number?
This unique content will then get tweets and links and so receive a free promotion.