Google Pack, free software for all
This set of free applications gives an overview of what you will get on a computer with the ChromeOS operating system.
This actually will provide access to an online store to add to many others, free or commercial.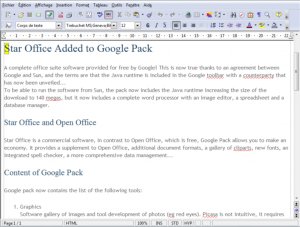 Update September 2, 2011: Google stops the Google Pack and the site now displays  links to the website of each product. So content is still available but on different sources.
LibreOffice
Star Office was added to the Google Pack August 2007, but has been then removed in November 2008. Now you must download separatly the Pack and LibreOffice.
LibreOffice, is a free and complete office suite with a word processor, a spreadsheet and other tools. The last version have improved compatibility with file formats from Office and also the processing of the PDF format.
Content of the Google Pack
Google pack now contains the list of the following apps:
Picasa.
Software gallery of images and tool for photos (eg red eyes). Picasa is not intuitive, it requires time to adapt. Animation software as well.
Earth.
A desktop tool that connect to a online database.
Anti-virus Avast.
See the comparison of anti-viruses.
Google Desktop.
Information manager, including emails.
Online Google Apps.
This includes Doc, GMail, Calendar, etc.
Real Player.
An alternative to Windows Media Player.
Toolbars for IE and Firefox.
Adobe Reader.
Is it necessary? I configured my system to display the PDF in Chrome and the result is satisfactory. This may be a way to get rid of a software (Reader), which tends to carry viruses.
Skype.
Use Internet to phone.
Chrome and Firefox.
Free downloads