Google Moderator
Moderator is an internal tool at Google that the company decided to share with people to helps promote questions on the Web.
It can be very useful to webmasters, in fact, by crawling questions in various themes you know what's most interesting to people, what they would find answers. Something more explicit than the popularity of keywords. Therefore a means to guide the webmaster in developing the content of a site.
There are two ways to participate in this social site:
Vote for a question submitted by a visitor.
Ask yourself a question on the site.
A simple interface allows voting: give a point by clicking on the symbol "selected" or say that you do not like the question by clicking on the cross. The left field is a progress bar on the number of votes, which appears in clear when you move the mouse over.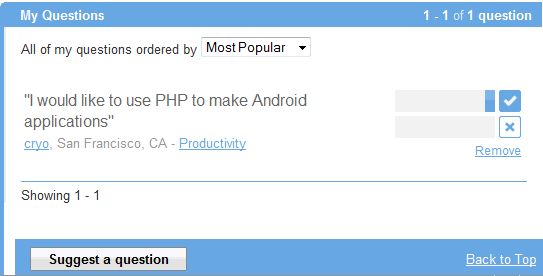 To access to the threads, go to Moderator.
The site was used as a first step by the company to communicate with webmasters, then lost interest to the tool and focused on Google+ it wants to promote with all kinds of services to users.
This service can run on App Engine as a social network Web service, if you want to create your own version. But Google no longer provides an API to this software, so you have to turn to an equivalent open source project. Question2answers is precisely this, it runs already on many sites, open or private. Actually the tool is well suited to a company or a group to put forward the questions people are asking.
You can also find services close enough in StackOverflow, specializing in programming, and StackExchange more general.