How many servers does Google have?
How many servers uses Google as well as large corporations, including dedicated hosting servers?
All companies do not deliver the numbers, some can only be estimated.
Google: more than 1 000 000 (since January 2010).
Microsoft: 1 000 000 in July 2013. Figure given by the CEO in a post July 8, 2013.
Amazon: 450000 (March 2012). The firm offers an online storage service used by major sites.
OVH: 140 000 dedicated servers (March 2013).
Intel: 100 000.
Facebook: 60 000 (2010). In 2013 the number is estimated at 180,000.
Yahoo: 50000 (estimated in 2010).
Godaddy: unknown, probably around 50 000.
1&1 claims 70 000, that can include virtual servers.
Rackspace: 50 000.
Ebay: estimated 50 000.
The Planet: 48 000.
Akamai: 48 000.
Verizon: 25 000.
Time Warner: 25 000.
AT&T: 20 000.
Not surprisingly, Google reaches the top of the list.. The number of servers known was 450 000 in 2006.
Datacenters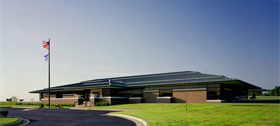 Google explains how it works to reduce energy consumption in its datacenters.
They are specially designed to use far less energy than typical centers.
" In the time it takes to do a Google search, your own personal computer will use more energy than we will use to answer your query "
Role of a datacenter
A data center includes computers and telecommunications. All kinds of large firms may have such a facility, but Google, to answer to requests from hundreds of millions of users, put up numbers centers throughout the world.
The center must have the following parts:
- Servers. Computers with fast and secure storage.
- Telecommunications connected to Internet, including routers and switches.
- Air conditioning.
- Generator for rescue power.
- System of fire prevention.
- Extinguishing fire based on different processes to remove oxygen without damage to equipment.
- Ventilation, including a raised floor for air circulation.
- Safeguards against intruders, based on surveillance cameras.
Google's datacenters
Google has in 2013 from external sources 36 datacenters of known localization, implemented primarily in the United States and Europe. In 2013 there are 19 major data centers in the USA. Google's site gives lower numbers, for example it offers 19 places to visit in the world..
With each new construction, the company strives to improve the environmental quality of the installation:
- Reduction of energy consumption. Use of renewable energy alternatives.
- Recovery of 100% of the water used for cooling.
- Recycling 68% of used equipment.
The exact number of server is not notified, but we know that Google has established an infrastructure for 1 000 000 servers. Some estimate the number up to 2000000 on the basis of surface of its datacenters.
Presentation of Google's datacenters.