Projects of Microsoft for the Future
Microsoft is a company that spends lot of money in research, 4 times more than Google and 10 times more than Apple, according to an official of the Research and Development Section.
Almost a thousand people work in the laboratories of the firm.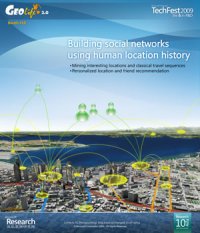 We will see videos of some innovative and sometimes very strange projects that the teams are working on in secret laboratories...
SecondLight
With this technology, we can move a piece of transparent paper on a screen and see a magnified view as with a magnifying glass, but without loss of definition and squared pixels.
It works with two headlamps integrated into the screen that show two different images that alternate very quickly, the square of paper intercepts one of the images, the normal view, and shows the other, the enlarged view.
NanoTouch
It is a semi-transparent touch screen, where you move your fingers behind the image and not before, so that it is not hiddend by your hands.
It allow to manipulate objects on the screen ...
Geolife
It is a social site that is based on Virtual Earth, the 3D mapping service from Microsoft. People can get in touch according to their geographical location. This can help to find sites of interest, those on which most people are going to. Or the software allows you to share the experience of travelers on a similar journey.
Origami
It is a mobile PC with a touch screen. It is an intermediary between netbook and iPhone. It has no keyboard but the screen size is that of a netbook.
Microsoft is working with hardware manufacturers to develop it.
Surface
Already presented at computer events, Surface is a screen associated with software to manipulate with the hands on the surface of the screen, the objects it presents. Images are moved as if they were photos on a table.
The surface site is now redirected to the touch pad of the same name from Microsoft.
See also
Midori. Possible successor to Windows. (Windows 8 is being in work, however).