Thunderbolt, universal connector
Thunderbolt is a new technology for connecting electronic devices and peripherals, primarily to a computer, which replaces USB, Fireware, eSata, HDMI, DVI and other formats.
It is based on DisplayPort and PCI Express and therefore allows external devices to be seen as internal.
Thunderbolt is a code name and is the name of a mountain in Oregon.
This technology was developed by Intel in collaboration with Apple, which plans to use it on its computers to replace all other connectors.
The transfer speed of a Thunderbolt cable, using an optical fiber, is 10 Giga/bits per second, with a possible extension to 100 Gb/s. At this speed, you can transfer the 25 gigas of a Blu-Ray in less than a minute.
All types of devices can be connected with this technology: disk, mouse, monitors, etc.. Better yet, all devices can be plugged into one single connector.
How it works
The system comprises:
A fiber optic (or copper) cable.
A controller on a chip (being built by Intel).
An optical module: it converts electrical impulses into light signals and vice versa.
A connector on each device.
The fiber does not transfer power, which is why Intel plans to add a traditional copper wire to power peripherals such as hard disk. It is necessary to replace USB. This has no effect on the speed of data transmission.
Specifications
Substrate: Fiber optic and copper signal for power (or all copper).
Speed: 10 to 100 Gb/s.
Length: Up to 100 meters.
Multiple simultaneous protocols.
Immunity to electro-magnetic interferences.
10 watts power to the external device.
Compatible with any monitor, VGA, HDMI, DVI with an adapter.
Compatible with USB and Ethernet with an adapter.
Advantages over USB 3
Possibility to connect multiple monitors simultaneously.
Double direction of data flow.
Direct access to the motherboard as internal slots.
Higher and more effective speed.
The drawback for now is that it costs 50 times more and then is only user by high-end devices. But when it will be distributed integrated in the Ivy Bridge chipset of Intel, this overhead will disappear.
Availability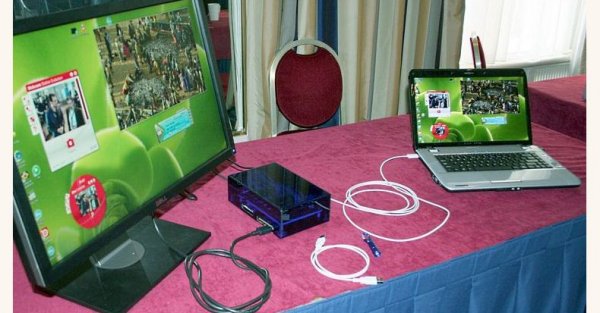 The first laptop equipped with Thunderbolt (above) has been demonstrated by Intel in May 2010 during an exhibition in Brussel. In this case it replaces an HDMI cable.
Apple first released devices with Thunderbolt on the whole MacBooks Pro line in February 24, 2011.
It is not expected other PC makers adding it before 2012.
An energy efficient version is scheduled for mobiles in 2011. The Mini DisplayPort is well-suited for mobile and its universality gives it a big advantage.
HSB
The successor Peak Light, designed by Intel, is ready. HSB (Hybrid Silicon Laser) uses a laser to transmit the signal, it allows a bandwidth of 50 Gpbs.
Video. How its works.
More