Wordpress 3.0, now a true CMS
Note a detail that is not irrelevant in the new version of Wordpress, in the setup menu: the word "blog" is replaced by the word "site". This will mark the actual universality of this CMS.
Two significant changes go in this sense, the first is the merge of the single user version with the MU version to create multiple blogs on the same site, and the second is the ability to create different types of pages , beyond "Post" and "Page".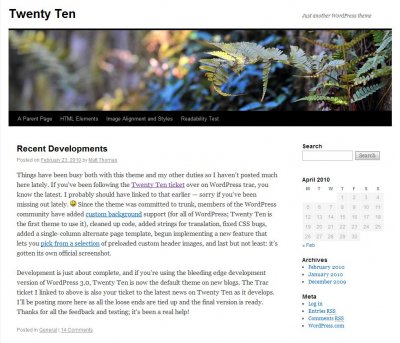 New theme and new templates
The default themes provided were neither elegant nor easy to modify. They will no longer be part of the distribution and will be replaced by a single theme, named Twenty Ten.
See the Twenty Ten demo.
The theme editor now has more templates. A template to include page links appeared.
The theme editor allows the user to change the background image and the way it appears, whatever the theme.
New login
Wp_login_form function can be used anywhere. If it does allow to log into a page, and so able to edit it directly, rather than moving us authoritatively to the administration interface it is a clear advantage.
Tag and category
Conversion tools are added to transform tags into new categories, and conversely to remove a category and replace it with a tag.
Custom post types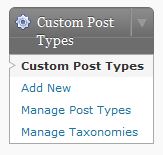 Next to "Post" and "page", it is now possible as with Drupal (with CCK) to create extra types of contents.
There is no need to manually edit the database to create a type. The webmaster can define new fields that will be part of the type and fill it when he create a page of this type.
To have a graphical user interface, you must download the plugin Custom Post Type UI. Once installed, a new menu appears at the bottom of the admin panel: "Custom Post Types".
The creation of a new type adds also a new menu in the administration panel.
Author templates
By creating a template for each author it is possible to customize the appearance of his articles and to add specific information, eg photo, biography ...