Make a Thumbnail of a Webpage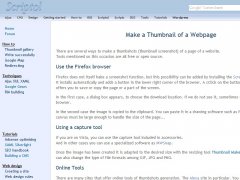 There are several ways to make a thumbshot (thumbnail screenshot) of a page of a website.
The tools mentioned on this occasion are all free or open source.
1) With a Firefox extension
Firefox does not itself have a screenshot function, but this possibility can be added by installing the Screengrab extension.
It installs automatically and adds a button in the lower right corner of the browser. A click on the button shows a menu that offers you to save or copy the page or a part of it.
In the first case, a dialog box appears, to choose the download location. If you do not see it, sometimes it can appear behind the browser.
In the second case the image is copied to the clipboard. You can paste it in a drawing software. The size of the canvas must be large enough to handle the size of the page...
2) With a capture tool and a script
If you are on Windows, you can use the capture tool included in accessories.
And in other cases you can use a specialized software.
Once the image has been created, it is adapted to the desired size with the resizing tool Thumbnail Maker provided on this site. It can also change the type of file formats among GIF, JPG and PNG.
3) With a online tool
There are many sites that offer online tools of thumbshots generation. The Alexa site in particular. You can give your site's URL and get a thumbnail of the home page in 111 x 82 pixels.
Other sites offer to enter the URL of a page and provide a picture with several size options.
In this case again the use of the resizing script may be useful for a well-defined size.