SVG demonstrations
Using SVG for virtual representation of remote-controlled objects.
The purpose of this series of experiments is to achieve a virtual representation of a robot, which is controlled by the same commands that which are applied to the electronic assemblies.
The Scriptol language has been selected as the source language, next to JavaScript, because I can extend the language to add the necessary functionalities. I can not extend Python or Julia to give them the constructs needed here. The goal orientation is an example.
Scriptol is compiled to JavaScript, which gives compatibility with many existing libraries.
SVG: Moon landing and programming by goal.
Demonstration of goal oriented programming applied to a lunar module displayed in SVG.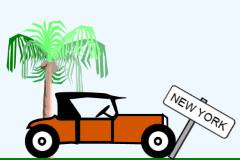 SVG: Car on a road and event programming.
An image tag is dynamically created to move the car in a setting made in SVG. An event is programmed to takes place when the goal is achieved.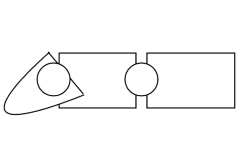 With the same commands as on an electronic assembly, the user can fold or unfold the finger.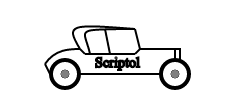 By transforming an SVG image in a JavaScript object, faster animations are obtained... Demonstration.
See also...
Using SVG, general purpose demos, in the XML section.