How not to make a web application interface
The creation of a web or local application should involve at least two actors: the developer and a designer.
Interface design was revolutionized several times, mainly by Apple. An initial progress has been achieved by the unification (at the time of the Apple II), all programs having to use the same commands for the same functions, which was not previously the case, we had to relearn the keyboard with each software, and programmers in particular where not able to move from one editor to another without relearning the controls..
Then ideas in Palo Alto were taken, and appeared the GUI with the mouse. But then the firm has consistently innovated in this area and since the iPod has never sold a device without its user's use is fully developed to provide the most intuitive behavior to the user. To do this, the task of designing interfaces was removed from programmers.
Why programmers should not define the interface? The interface design requires sensitivity to the user, an affinity for humans, while a programmer is by nature more abstract and more attracted by mechanical aspects. He knows the workings of a computer, which is not the case of users.
A programmer is usually not capable of defining an interface and a lot of software and websites are unfortunately an illustration (see Gnome Shell 3 for example).
How not to make an interface
Define the functions of the software first and create a command for each thereafter.
Add function after function over time, and add a button for each.
Define the perfect interface for ... a programmer. Users are not always technicians and are not familiar with the intricacies of how a program works.
In summary, do not let programmers make the user interface... it is a different job. But a programmer could occasionally had a gift of designer. Sometimes ;)
How to make an interface
Must divest itself completely of its experience and be able to put itself to the place of user who is totally a beginner.
Try to imagine being transported in a foreign country where you know neither the language nor the customs, with the duty to cope with the signs to find the services you need.
Define the interface independently of the software. Then try to associate the code with user's actions.
Use a predefined framework for its widgets, and make the best use of it, with imagination.
Create a model prior to the construction of the interface, imagine it in action, all user actions and search for simplifications.
Remove all unnecessary steps in performing a task. For example, aggregate functions on a single page if possible.
Read again the principles of web design.
Example of form remake by a designer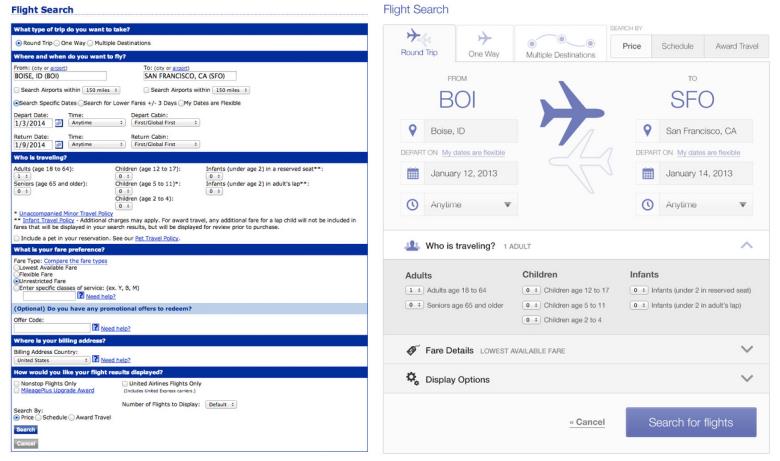 Reference: Nathan Barry.
See also