How to find free images?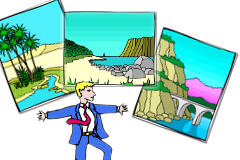 The question is often advisable to add images to his articles. This contributes to the success of some blogs. But how to find a picture to illustrate each page?
We want not to purchase images whose origin is not known ...
Making a search the simple way
Go to a specialized site:
and type your request. 50 000 high quality public domain pictures are available.
Making a search the hard way
The best source is the search engine Google Images.
"The most comprehensive image search on the Web."
Google has created options for rights in its image search engine.
The Advanced Search interface offers a range of options to refine your search, including options about copyrights and right to reuse.
This may be defined in the query too, based on the following parameters:
You have this choice of filters (providing the engine still support them):
&as_rights=cc_publicdomain
&as_rights=cc_attribute
&as_rights=cc_sharealike
So if you're looking for royalty-free images about "programming", the request will be:
http://images.google.com/images?q=programming&as_rights=cc_publicdomain
In a group keywords are separated by the %20 code, example:
programming%20php 
Going directly to sharing sites...
Some sites provide lots of images and icons available for free...
Images generator
It is also possible to automatically create images with the guarantee that they will be unique!
See also