Advanced Editor
Complete text editor based on Ace, to work on multiple projects. Requires Electron or Node.js.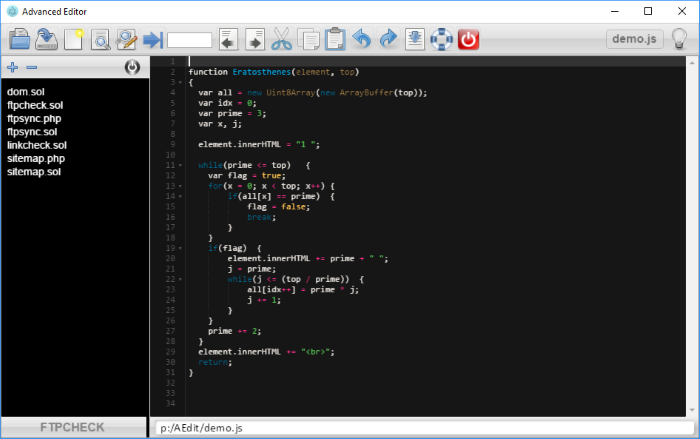 Advanced Editor is a programming editor especially designed to users like me who have to switch frequently between several projects.
It work locally in a browser and requires Electron or Node.js. The WS module is included in the archive.
Originally the editor was a part of Advanced Explorer and has been separated in a standalone tool.
Versions
2.0 - January 10, 2017.
Dur to incompatibilities between browsers, the editor now works with Electron.
1.6 - October 11, 2016.
Prompt to save current file accepts yes or cancel.
1.5 - June 16, 2016.
Automatically load the last project on startup.
Added a contextual menu to project files to delete an entry that no longer exists.

1.4 - May 25, 2016 Added a group of icons to go to an line or the beginning or end of the document.
1.3 - May 2, 2016. Load/Save: One can change the drive or go to a directory by typing the path in the input fields.
Added context menu to files in the load and save window.
1.2 - April 13, 2016. Now you can click on the help icon to close the manual.
1.1 - March 27, 2016. Added quick project select.
1.0 - March 17, 2016. First release as standalone tool.