Skywriter and Ace, online code editors
Skywriter (formerly Bespin) is perhaps a solution for a more easy way for programmers to contribute open source projects, because the code editor works online and it is based on an extensible framework under the MPL license.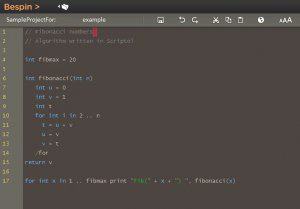 Sample code in Scriptol
The former name Bespin is the name of a planet in the movies of the Star Wars series, specifically in the Episode V: The Empire Strikes Back. The planet hosts the floating clouds city that must have inspired the creators of the project.
The new name is a reference to the cloud.
An editor in canvas
Skywriter is a web application that runs entirely in Canvas, which means that the graphics are images displayed in Canvas, which you can modify or replace by personal components.
You can easily verify that display and editing are fast running while online.
Skywriter Features:
Easy to use and intuitive.
Editing code is fluid.
Extensible.
Allows contributions to code in real time for an open source software.
It has a command line as editors on UNIX.
Is accessible anywhere at any time, which is characteristic of a Web application.
Skywriter is a mainly framework
Skywriter is not designed as an editor, but rather as a framework to achieve an online code editor and project manager.
It is therefore possible to develop your own online editor.
Once online, the editor provided by Mozilla, or your own version, will enable programmers to select a project and modify the code of a file.
Skywriter has less interest in a not collaborative project, but it can allow to work on the code at any time - on the train, a waiting room - if programming is a hobby!
From Skywriter to Ace
The Skywriter project was abandoned by Mozilla as a separate software (but the code is still available for download) to be merged with Ace from the site Ajax.org, another open source project that does not lack interest.
This is the publisher of the online tool Cloud9, which is made entirely in JavaScript, and composed of two parts, one running on the server running on Node.js, the other in the browser includes the Ace editor.
Ace means Ajax.org Cloud9 Editor, et support editing of programs in thirty programming languages​​, possibly in a collaborative way with GitHub integration when running on Cloud9.
It does not use Canvas unlike Skywriter but HTML components and DOM.
The source code editor itself can be integrated into your own web pages and so it is an alternative to CKEditor or TinyMCE. However these are text editors and offer a WYSIWYG mode that does not Ace. Webmasters integrate Ace in Drupal  for code editing, but in addition to the common editor.