Freehand paint software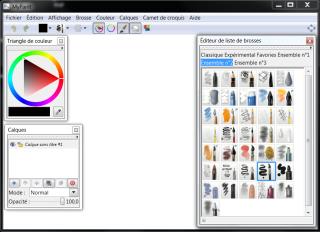 This software is the best suited for drawing freehand while Gimp is more developed for transformations. It stabilizes the movement of the mouse to a brushstroke without trembling like on paper. In fact, even Photoshop users may prefer MyPaint for pure drawing. Its simplified interface requires to only focus on the image and its multiple brushes replace filters and other tools.
A part of this program was taken in Krita when in 2012 it was decided to make it more specialized in the art of painting on screen.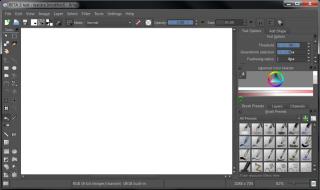 Krita (Swedish word for "crayon")
Designed for Linux, this software has also been ported to Windows and has a growing success for two years (it has been around for 15 years). Deliberately oriented to hand drawing as MyPaint, it also tries to add the features of Gimp while approaching the ease of use of Photoshop. But it is not a image processing tool that Gimp mainly is.
One goal of the program is the making of comics and it offers options to make it easier.
Version 5 adds a storyboard editing function and a new improved animation system. These tools are not convincing and the animation language looks like PHP with usual trigonometric functions. We have at least as many in Canvas.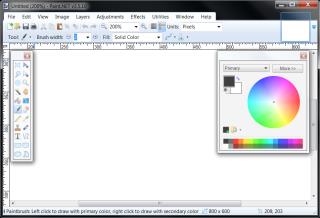 Image and photo editor running on .NET, hence its name, and on Windows, it was gradually enriched but is far to have the capabilities of The GIMP, however it has the advantage of ease of use. The intuitive interface helps to make images quickly.
A list of thumbnails provides direct access to the images being edited. Most options of the tools are modified by icons on the toolbar.
A plugin can make the software compatible with Photoshop files.
It has also its drawbacks: One of the shortcomings is the lack of context for options. As we cannot choose a color for text only or for drawing only, the same color applies to all tools. Similarly, the width of the brush also applies to other forms and graphics in general. This requires more frequent changes in options.
The lack of airbrush is crucially lacking.
Searches for doc redirect mostly to the forum. This is minimal service!
Special effects are possible thanks to filter included in the core version and you can achieve the following effects:
Convert a photo into drawing with colors or just sketchup.
Oil painting from a photograph.
The effect of blurring glass, or blurring of the face of a person.
Smoothing to remove defects.
Removing red eye.
Enhancement of contrast for an too smooth image.
Stylish portrait as that of writers.
The version 4.0, more easily extensible, was scheduled for 2011. It was available on June 25, 2014. The original software is free but not open source. The last version which was published with source is 3.36. Therefore it is not possible for someone to take over to develop the software.
Getting the tool is not easy, you have to pass several screens for displaying advertising, before to reach the true download link. You may avoid that and to install malwares by downloading it from Ninite.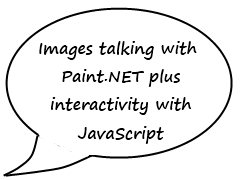 Speech bubbles
A tutorial to put Paint.Net into practice : Creating a speech bubble.