Bing vs. Google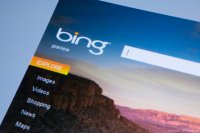 Bing is a decision engine, a new concept of search engine by Microsoft, whose code name was previously Kumo. It is different from the search engine og Google and Microsoft hopes to retrieve a better place in online searching thank to it.
Bing was announced on May 28, 2009, is available to the public since June 1, 2009. On July 29, 2009, Microsoft and Yahoo signed a 10 years agreement for Bing to be the search engine on all Yahoo's websites.
What Microsoft said about Bing:
     "We have taken the algorithmic programming up an order of magnitude."
The interface, in addition to the background image is different from that of Google in the presentation: on sidebar at left are search categories for every type of media: images, videos, shopping, news, maps, travel.
The engine was initially codenamed Kumo which means spider or cloud in Japanese. Bing's name was chosen by a brand consultant. Bang was once considered, but Bing sounds like Bingo and was preferred. The recursive acronym BING is Not Google is not the original idea said Microsoft.
What is a decision engine?
Statistical studies have shown that two thirds of the requests made by users, currently require a refinement: it have to be modified and relaunched.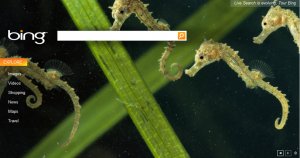 Bing was developed from this finding. The search begins with a decision about what you want to get, which is translated into a list of contexts to select from the sidebar.
When the request is expressed, the sidebar is completed with more information. There are:
Different view points to refine the search.
Related search.
A history.
A choice of location.
A choice of categories.
Other criteria may also appear depending on the research.
It is clear that behind the sidebar lies an intelligence, and that is what Microsoft is talking about when it presents Bing.
There are also more intelligence provided by the integration of Powserset (recently acquired by Microsoft), which attempts to interpret the page contents.
Bing also seems designed to encourage people to stay on the site of the engine rather than go on the sites provided in results. The effect is that it will be fewer unnecessary visits to the sites followed by immediate back to the engine!
Bing is it better than Google?
Bing offers help to better define a query. The recent introduction by Google of the media bar at top and the Show option that appears when the request is passed, provides similar services.
The opinion of those who have tested the engine under the provisional name of Kumo is that:
Bing offers results equivalent to those of Google.
The interface of Bing is more friendly .
The long tail
Bing is trying to fill a deficiency of the previous search engine from Microsoft. An official of Bing, said if Microsoft had so little market share comapred to Google is that it ignored the long tail.
The previous engine returning results on major sites but not indexing a myriad of minor sites that provided however, answers to more specific questions.
Reactions and comparison
Carol Bartz, Yahoo CEO:
"It's interesting but not over-the-top interesting. People will keep the same habits."
But opinions may change, so the july 2009 announcement of Bing search engine for Yahoo's sites.
Eric Schmidt, Google CEO:
"They've got a bunch of new ideas, and there are some things that are missing. We think that search is really about comprehensiveness, freshness, the scale and size of what we do, and it's difficult for them to copy that."
Tom Costello, CEO of the search engine CUIL made a comparison between Bing and Google.
Bing attaches more importance to keywords in the URL as Google.
It also promotes the pages where keywords have the first letter capitalized.
Bing has 2.9% span against 2.65% for Google.
It attempts to correct less the terms of the request.
30% of Bing results are similar to those of Google.
Video search
The level of interactivity is the highest and searching videos becomes a pleasure. Indeed, the results provide a selection that appears in the form of plate images, which come alive when you pass the mouse over one of them.

Behind this simple panel of videos are hidden quantities of technologies: geolocation of search, multiplication of sources (Youtube, Dailymotion, MSN Video, etc.), and various filters activated by the user ...
Tips
It is now easy to block any sexual content by just blocking this domain:
explicit.bing.net
This invisible domain is a firewall installed by Microsoft for such content.
Conclusion
Bing will it take market share to Google? It is the hope of Microsoft even if the aim is to go to a different market.
It appears more as an alternative to which we will continue in the event of chess on Google. This would be at the expense of Yahoo and other search engines. Google provides a wealth of free services which carry people and should remain the first choice for most of them.