Mobile technology and programming
Some articles about mobile phones, smartphones and other mobile computers. A new domain for programmers and webmasters, and the main ones in the years to come.
The new free operating system compared to Meego, Android, Windows 8.
Often considered the best mobile OS, it has had mixed fortunes before going into open source. It is available for download.
The system programmable in Java tends to become the most popular.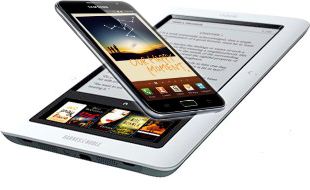 They take advantage of the unique features of mobile and smartphones.
Using a mobile as a brain for different devices
Mobiles are accomplishing a new step in technological progress, they are connected to different types of equipment to give them some intelligence.
Why Nokia will return to the top
The union of the best manufacturer of mobile equipment and the leading producer of software, Microsoft will boost the firm against Apple.
Did Apple invented the touch screen mobile? It's not as undoubted as it claims ...
Apple's inspiration. How Apple is inspired by the design of products from other companies to design its own. They are "homages" says the firm.
What framework for developing for mobiles?
Based on HTML 5 and JavaScript, they interface with the mobile OS and try to provide an interface identical to that of native applications.
An overview of the structure of Android for a programmer.
Native vs. HTML 5 vs. Titanium
What platform to choose for a mobile application? Point by point comparison of the three options.
How to design a website for mobile phones
According to the announcement by Google on the issue, there is no difference between a site made for desktop computers, mobile or both.
It is not necessary to have a particular extension (such as .mobi) or to put the pages for mobiles in a subdomain.
But there must be a display for screens of different sizes which is facilitated by a fluid layout, such as the theme for Wordpress Cryonie ou Encyclopedia (which may be used on a static site).
It is quite possible to make a site accessible to mobile with just a dedicated stylesheet.
However you can install a sitemap specific to Googlebot-Mobile, and it must contain only the pages displayed on mobile.