News on computers in 2012
The misfortunes of Kim Dotcom
The webmaster who had assured the judges that it would relaunch the Megaupload website, closed because he allowed the exchange of copyrighted content, created the domain me.ga for a similar service. Before the opening the site displayed this message:
"This button will change the world".
But even before the opening, the site was seized by the Gabonese authorities: "Gabon can not serve as a platform for unlawful acts or be used by unscrupulous people." said the minister.
The world will wait to change, therefore.
November 9, 2012.
Updated November 12. Now the site is hosted on mega.conz. This mega conz name that evokes vulnerability to confidence tricks has been noticed by net surfers.
Anatomy of a hoax
The author explains how to make a fake news, with photo support. Which picture is the result of 5 hours of work on Photoshop and Blender. Thus was born the Sony Nexus X, a imaginary smarpthone, made by the hypothetical collaboration between Google and Sony. The interest of this study and after posting of the photo with a few lines of comment, it took less then two days to the new is adopted by most sites dedicated to new technologies, including Theverge, Gizmodo , Techcrunch. Some with a hint of skepticism, however. We guess that about checking source, each of these sites found that some others took up the information!
October 20, 2012.
WebOS open source available in beta
The mobile system is provided under the Apache License 2, which is more liberal than the GPL of Linux.
It is not known when a mobile (other than the TouchPad) will be provided with the OS, but it is always possible to recycle a product with Android 2 ... The site provides a list of compatible hardware.
WebOS.
September 1, 2012.
New open source user interface on Linux
Disappointed users of Gnome and KDE will be able to return to a more classical interface with CDE (Common Desktop Environment), once proprietary to IBM, HP, Sun and other, but now freely licensed under LGPL. It is a UNIX interface originally, but has been ported to Linux, including Debian and the open source move is expected to port it more widely.
A peculiarity of CDE is that it does not use icons on the desktop but minimization of applications instead. A concept which is back in actuality in the interface of Windows 8!
August 6, 2012.

The CDE dock
Digg is no longer what it was: it is better
Bought by Betawork after the failure of version 4, which caused it to lose most of its audience, Digg takes a new look, without advertising (for now) and without readers' comments (for now too) .
The new style is sleek and stylish, but the organization of links in block magazine does not do so unanimously. But opinions are generally positive. We appreciate photos in large format, for example.
The promotion system is totally changed too. One criterion was expected: likes and other recommendations on other social sites taken into account. It was common (and I am personally concerned), an article that has great success on Twitter and Facebook did get just some votes on Digg. This should no longer happen.
July 31, 2012.
Google IO: The future of Chrome applications
Web applications in the Chrome browser Chrome out of work, this is what announces the development team. Here is the program development for packaged apps:
Breaking out of the browser. Apps are launched from the desktop (this remind us of Prism/Chromeless from Mozilla).
Enhanced user interface.
Offline by default. An improved mechanism will check the files to update.
API to acces system and devices (again a Mozilla project, see Firefox OS).
There are downloaded and installed locally although made ​​in JavaScript and HTML.
Remember that packaged applications are .crx file to install. They use the browser's rendering engine, but operate outside of it.
July 7, 2012.
A foundation for open source robotics
Created by Willow Garage, a major player in the world of robots, OSRF is a nonprofit organization that seeks to promote the creation and use of open source software to control robots. The foundation will enter the contest at DARPA in October 2012 that will award a prize of $ 2 million to anyone who will build an autonomous robot used in the case of a natural disaster, making use of the same tools that the human rescuers .
May 12, 2012.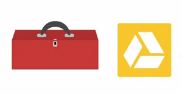 A online storage API
Along Drive and its free online storage, Google offers an API to integrate this storage space to an application. This can make life easier for users since they can use an online application without storage on their computer, or with greater storage as cookies or localStorage.
Drive is not a simple storage space but a tool for sharing and search for users. What the API proposes is to add these features to any local or web application.
April 25, 2012.
DuckDuckGo, the search engine that goes up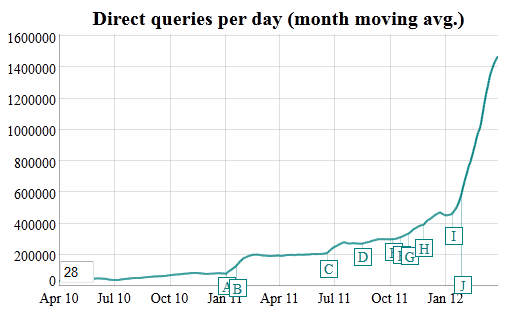 Monthly visitor statistics show a sudden increase in traffic of the search engine. 1 600 000 visitors per day.
The characteristic of it is not using any personal data, do not watch the pages the visitor has previously visited. The quality of results varies with the type of research. The request must be made ​​as accurately as possible, because the engine has no idea of context otherwise.
The index is built from the Yahoo-Bing database and has the same content. It has its own features, such as "alternative to".
March 30, 2012.
Encyclopedia Britannica goes to the Web
This is the end of the 32 printed volumes of the encyclopedia created in 1768. The same company also publishes the Encyclopaedia Universalis, the Littré and Robert. Both encyclopedias were sold a few years ago door to door by a cohort of vendors. But there is competition from specialized sites and wikis, buying a large pool of volumes has now little interest.
The latest edition is that of 2010 and there will be no more printed version. 8000 copies were sold against 117,000 in 1990, while there is more than one million subscribers to the online edition, which only now remain, with the advantage of being updated in real time.
In the 80s, Microsoft wanted a partnership to put the Britannica on computer, that the owners refused. Microsoft then created the Encarta CD-ROM, which itself disappeared in 2009.
March 14, 2012.
Sources code of ID Software games on Github
Can be found on the repository the code of DOOM, Wolfenstein 3D, Quake, Quake III Arena. So the company moved from shareware to distribution of the source code without it seems to affect its revenues.
The codes have already permitted to create free games based on the rendering engine of the famous games.
Download.
February 1, 2012.
NASA open source
The organization that sent men to the moon wants to share its code and opens a site to upload projects. Among them, a computer vision software, a World viewer in Java - a sort of Earth -, and many more yet to come but already announced in the list.
January 5, 2012.
Kodak files for bankruptcy: Kodak today, Microsoft a day...
In 1975, Kodak film sales were then in full progress was about to reach $ 10 billion in annual sales, and it had invented the first digital camera.
But it was careful not to put it on sale for fear that it affects sales of conventional products. However, what it never wanted to do, others have done in its place. In 2007 it must reduce its staff from 64000 to 27000 employees.
And in 2012, his contacts with investment banks show that it is ready to file for bankruptcy.
Interesting that the one that has contributed significantly to the digital development is liquidated by it - not to have put it in practice. That sounds like Microsoft and HP with their touch screens. HP-150 in 1983, Surface from Microsoft in 2007.
Other companies such as Polaroid, once flourishing, but camped on conservative positions, are about to do the same.
January 5, 2012.
Update January 18, 2012: Kodak officially announced it filed for Chapter 11 reorganization.