News on computers in 2016
Tablets PC do not replace desktops
Not if you compare Apple's revenue between 2014 and 2016...
| | | | |
| --- | --- | --- | --- |
| | 2014/Q3 | 2015/Q3 | 2016/Q3 |
| iPhone | 53% | 63% | 57% |
| iPad | 16% | 9% | 11.5% |
| Mac | 15% | 12% | 12.4% |
| Stores | 12% | 10% | 14% |
| Others | 5% | 5% | 5% |
The new MacBook Pro get criticism as it is as much made for professionals that SUV are made for explorers of unknown territories. Macs have their market, users who want their machine be looked with envy, without wondering what it is capable. And though many disappointed Mac users want to leave the ship, year after year the firm keeps its percentage of customers for desktop machines.
November 1, 2016.
Windows 10 for free thanks to double Irish-Dutch sandwich
The double sandwich is the setup used by companies like Microsoft, Apple and Facebook for not paying taxes on profits in Europa or elsewhere in the world. They first install their headquarters in Ireland, where tax on profits is 12.5%, but even these 12% are too much for these gentlemen. They then report their transactions in a tax haven, through the Netherlands, which ultimately allows them to benefit from public services (including education of their staff) for zero penny. In fact the financial arrangement is very complex and it took six months for the experts of the European Union to understand how Facebook operates. All major Web companies usent these tax firms which build the arrangement for them.
Poor users in Europa can not afford their services, but enterprises are smart enough to make the same kind of magic to offer Windows for almost nothing. You can acquire Windows 10 on CDiscount for € 15 quite legally. Some even venture to order an activation key in China for € 5. These keys work with a Windows 10 ISO image that can be downloaded from the Microsoft website or that of the seller. Remains only to burn it and install the system.
October 20, 2016.
The end of UML
It was presented (there is already a very long time) as the future of programming. A way to replace the code with a visual description. In fact, UML has never had a great success and was mostly used for presentations, rarely in programming rooms.
Microsoft announced that Visual Studio will no longer support this features. This equates to a funeral.
October 20, 2016.
Software patents finally questioned
According to Judge Haldane Mayer from the Court of Appeal for the Federal Circuit, that is the final arbiter before the Supreme Court, it is time to recognize that the decision "Alice" of it in 2014 put an end to software patents alltogether.
Following that the court ruled that the patents on which were based a trial of Intellectual Ventures (of which Microsoft is a shareholder) against Symantec were invalid. One of these patents claims to have invented the use of anti-virus on a mobile network. It is precisely this kind of "reinvention" applied to a technology that the court challenges.
According to Section 101 of the patent code, ideas are not patentable. It was not clear so far, but the court enforce this rule in a very reasoned way.
The last resort for Intellectual Ventures would be the Supreme Court, but since it has already given in "Alice" a negative opinion against the "software inventions" that are only ideas ported to existing technologies, the game is over. And this applies to almost all software patents.
Source Fortune.
October 4, 2016.
The new trends in data processing
What types of programmers achievements he see their future in 2016?
Data processing, which has always been the subject of computing, now extends through the Web to the amount of information that is collected with the interaction between sites and users or between users. New applications are appearing to take advantage of that.
According to Evans Data, a site specializing in forecasting, based on interviews with developers creating new application and using new technologies, here are the areas in vogue:
56.4% of developers that make use of data statistical analysis are currently building robotic applications.
24.7% use machine learning. Tools like Siri, Cortana, Google Now use this technique to improve their results.
45% see the IoT as a vital area for their future. These connected objects can provide useful amounts of data to anticipate, prevent or market.
27.4% plan to have their application in the cloud.
This does not include all programmers, but only those who use tools to process large amounts of data. However, Web and smartphone applications is currently the primary development area now and they store data on a large number of users so they may use these tools.
June 20, 2016.
The snap revolution for Linux
From now, only one format is necessary for packages for all Linux distribution, and it offers multiple advantages over previous formats deb and rpm, which divided the Linux world so far.
An application distributed by snap contains all its dependencies, eliminating problems of versions for those that require a particular version of a library. If a new version of a library introduces incompatibilities, this does not affect applications already installed.
However, to not needlessly reduce the disk space, when a dependency is already installed, it is just linked to the application (but preserved from updates), it is not installed in duplicate.
Furthermore snap improves safety: the applications have their own operating environment, containers, instead of sharing the common environment, this prevents an application that is not working to affect others.
Snap is a proven product, it works for a long time on Ubuntu and has just been extended to the other major distributions, including Debian and Red Hat.
To enjoy snap now, install snapd (in the traditional way with apt or yum!).
But as always with the standards, it is in competition with another standard, here Flatpak, coming from Gnome, which offers similar features and requires SystemD. The flatpak-snapd duality will it replace the yum-apt duality? Probably not, because the difference here is that a package works on all systems: one of the two can win without that distributions can impose their specificity as usual.
June 15, 2016.
Trends in mobile purchases in the first quarter 2016
Evolution of global market shares according to IDC. These figures are confirmed by the financial results published by Apple in April.
| | | | |
| --- | --- | --- | --- |
| | 2015 | 2016 | Evolution |
| Samsung | 24.6 % | 24.5 % | - 0.6 % |
| Apple | 18.3 % | 15.3 % | - 16.3 % |
| Huawei | 5.2 % | 8.2 % | + 58.4 % |
| Others | 52% | 52.1 % | + 0.2 % |
In short, the market is stable, users already have a mobile and do not see the point of changing it, but a part of the new customers (3%) ignore Apple to the benefit of Huawei (and its various brands: Honor, etc...).
Wordpress responsible for Mossack Fonseca case
On 3 April 2016, a data breach on the website of a Panamanian investment fund (www.mossfon.com) revealed openly tax evasion, which involve politicians (the Prime Minister of Iceland had to resign ) and personalities. According to the firm, it's a hacking of their email server which allowed access to these data, but the 2.6 terabytes documents is not found in mails, they were rather in a database accessible by the server .
According to an analysis of Wordfence.com, an exploration of mossfon.com file system (which should not be possible but is yet) shows that on one hand the site is powered by Wordpress, on the other hand the wp-content/plugins directory contains an older version of the plugin Revolution Slider vulnerable to attack. The plugin allows you to put scripts on the server and then access its contents.
April 8, 2016.
Microsoft will not include Ubuntu in Windows 10
It seems that journalists are a bit carried away with the announcement of the next inclusion of a full Linux distribution in Windows 10!
With the Redstone update, it is the command-line tool Bash, common to all Linux distributions that goes, it's official, be included in Windows. With Bash we can use tools like ls and grep.
Nothing revolutionary, it is already possible to download a Windows version of these tools not only for Windows 10 but for all Windows (see developer tools). However we will have access to more tools and to apt for their update. They are not compiled for Windows, there are the native Linux binaries (Ubuntu's more precisely) running inside Bash's environment.The Linux kernel is not implemented, but an intermediate layer make a link between system calls from applications and the Windows kernel. We can expect to see recurring incompatibilities.
No graphical interface also according to Microsoft:
We are only working on command line. This is all about the developer.
The more amazing is that Microsoft itself gives Powershell a competitor from the Unix world. It would have to be the last to bash Windows.
March 31, 2016.
Raspberry Pi 3, 50% faster
The MagPi magazine published benchmarks on the new model, presented as an evolution of its predecessor but with a good performance improvement: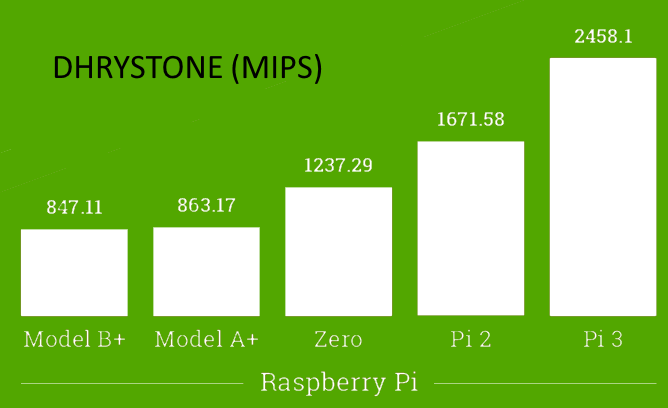 Benchmarks for all Pi models: higher is better
The performance improvement is similar for the Whetstone benchmark. To achieve this, the A7 processor is replaced by a Broadcom BCM2837 A53 quad-core 1.2GHz 64-bit, made especially for the Pi 3. The GPU is a VideoCore IV and we get 1 GB DDR2 memory.
The other change is the addition of a WiFi system at 2.4Ghz and Bluetooth 4.0. The antenna is integrated in the motherboard.
The appearance is similar to that of Pi 2, the novelty lies in the increased power and network connections.
The Pi 3 is presented by magazines as the first Pi to be usable on the desktop. It remains to be seen however. Without hard drive, and with only USB 2, it would take us back to the 80s. Only an ODROID through its eMMC storage could actually be used comfortably on the desktop.
February 29, 2016.
Programming languages, popularity and jobs
Do you think the more a programming language is popular, the more jobs are offered? Then look at these search results on SimplyHired.com...
| | |
| --- | --- |
| Julia programming language | 68 |
| Go programming language | 4,404 |
| Perl programming language | 7.639 |
| Python programming language | 13,763 |
| Basic programming language | 13,747 |
| C++ programming language | 22,850 |
| Java programming language | 23,328 |
| COBOL | 131,766 |
COBOL clearly outweighs all popular languages, even Java! So there is a difference between popularity and real use!
These numbers were returned on February 15, 2016.
What happens to the Raspberry Pi Zero? Where to buy?
The Raspberry Pi Zero, a full 5 $ computer which made a lot of hype when it was announced seems to have disappeared from the shops. Was it just a publicity stunt to get people talking about the brand?
In fact it is not so, the ultra-compact computer continues to sell, but only a few approved suppliers receive a stock unit and they receive it in turn. There are no approved supplier outside USA and UK, there is one in the USA, Adafruit and two in Britain, Pimoroni and The Pi Hut.
These three suppliers sell for export, shipping costs are to be added, and you can order only one unit at a time at the foundation request (and this will not change for a while). As they receive a stock in turn, they are also out of stock in turn, so visit each three stores to find available units.
More than one million units were produced to date, but they disappear as soon as they are in the shops.
February 4, 2016.
The list of distributors has been extended in 2017 with Kubii (France), ModMyPi (UK), pi3g (Germany), Samm Tejnoloji (Turkey).
March 1, 2017.
See also...